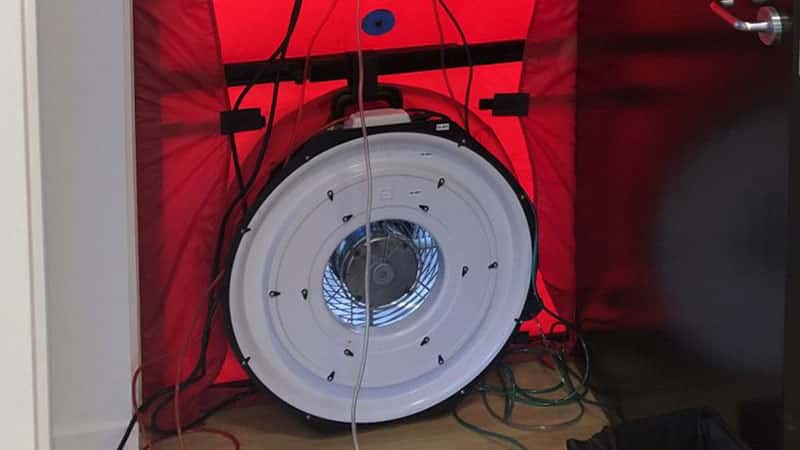 Specifying for Airtightness and Testing

The goal of the guide specification is simple. Help you define what you want (a demonstrated level of airtightness), and to get a fair price to prove it. You'd be surprised how often these seemingly obvious requirements are poorly defined in project specifications. So here's what's in the guide spec.
You need to define a target for airtightness so that you can measure whether you've hit it or not. What should you pick as a target? That's up to you and the goals for your project. If you're shooting for Passive House levels of airtightness — a lofty goal for some — then 0.6 ACH is your target. That's pretty stringent, but necessary if you are aiming that high. (I'll talk about the numbers further below).
If you're looking for a decent basic level of performance, then try some other points for comparison. For many climates of New Zealand, a permeability of 3.0 m³/hr.m² is probably a decent goal (that would be building code in many similar climates in the U.S.). A permeability of 5.0 m³/hr.m² is probably the worst you should accept. It's readily achievable for minimal cost.
A quick note about the numbers: Permeability is the total amount of air leakage, divided by the total conditioned surface area of the building — that is, the floors, walls, and ceilings. Other metrics you'll see include Air Changes per Hour (ACH), which is the total amount of air leakage, divided by the conditioned volume of the building. Luckily for most houses, the two metrics are about the same, but permeability is what building codes around the world are using because it's more universally fair. Specify a permeability of 5.0 m³/hr.m² or less.
Testing should be performed by an ATTMA Registered Air Tightness Tester. There are many throughout New Zealand. That way you can be confident that they're using calibrated equipment and that they know what they're doing. You'll also get a Registered Certificate of Air Permeability Test. Again, that gives you confidence that this test meets standards for quality. It also helps improve New Zealand's body of knowledge about what works and what doesn't.
Make sure you define what's in the scope of works for testing and what's not. Is it just a single test? Just positive or negative pressure or both? For Passive House? Any help finding and documenting leaks? What if they must come back and retest? Same price or discount? These are all things that are essential to define in your specification or request for quote.
Any ATTMA tester will be able to answer these questions straight away.
Here is the guide specification from AIVAA, a group of building performance experts in Australia. It's meant to be free and "open-source", so if you have good things to add, let them know. Good luck!