Wellington Wows with High Performance Retrofit
More Info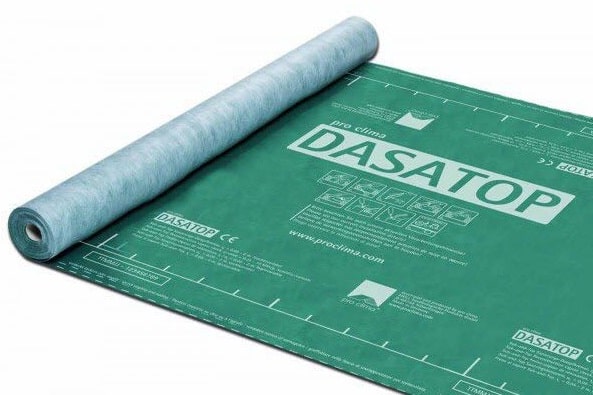 DASATOP® an air resistive barrier for installation over rafters and across sarking in roof renovation projects. The DASATOP® air and vapour control layer system has been specially developed for roof restoration and is installed from the outside over existing rafters, sarking boards or structure.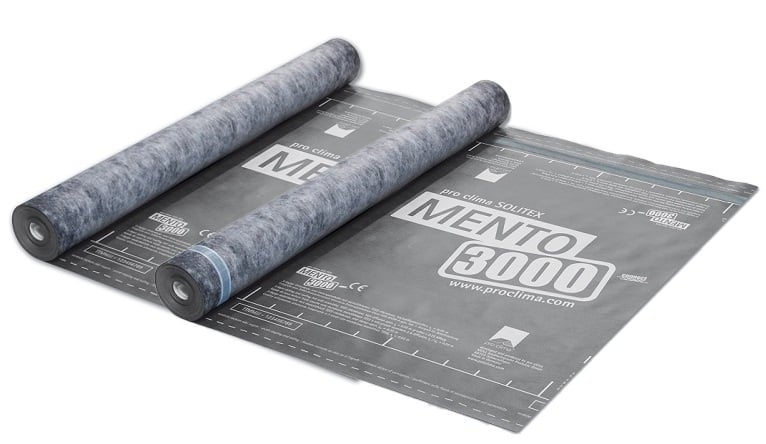 SOLITEX MENTO® 3000 provides superior weather and condensation protection for your roof, under all weather conditions. With type R4 classification (NZS 2295), it is suitable to be used in self-supported applications up to and including extra high wind zones.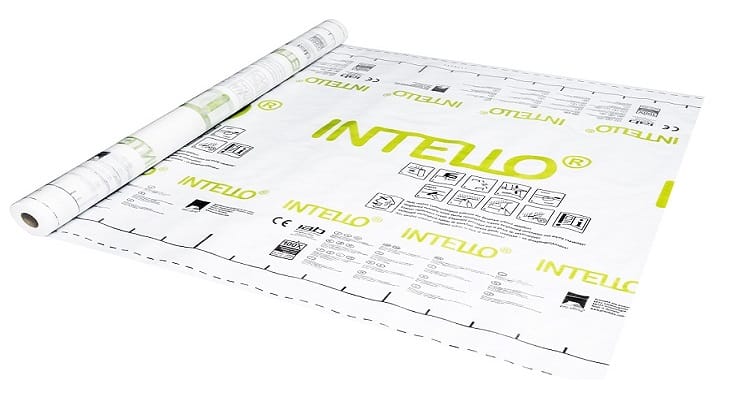 INTELLO® PLUS is a market-leading intelligent air barrier for all construction types, providing superior energy and moisture control. INTELLO® PLUS maximises the performance of your thermal insulation, whilst restricting internal moisture entering the building envelope.
---
This 90s architectural extravaganza overlooking Wellington's windy harbour has undergone a complete re-clad and re-roof high-performance retrofit to future proof the building structure and provide a good level of comfort.
QualMAX Construction engaged Energy Architecture to undertake specialist energy modelling and assembly/detail analysis to inform decision making on material specifications, build-ups and detailing.
The existing 90 mm framed walls contained many elements of steelwork bridging from interior to exterior and in some instances, extending from the interior to support exterior decks. This presented significant challenges in terms of heat loss and durability.
Energy Architecture did 2-dimensional thermal bridging calculations and Sustainable Engineering completed 3-dimensional analysis with achieving durability and thermal comfort as a target.
The strategy of applying insulation and airtightness/vapour control from the outside was established and all walls received new Mammoth polyester insulation. pro clima DASATOP was installed on the exterior side of the existing 90 mm timber wall frames. A further 50 mm thickness of strapping and insulation was installed to the exterior with rigid wall underlay and system tapes manufactured by pro clima. Steelwork within the external walls was insulated externally with XPS and projecting structural steel elements were boxed and insulated with XPS or PUR spray foam for a short length out from the walls to ensure the interior surface temperature remains above dew point. TRM (textile reinforced membrane) around the steel beam penetrations ensures those are weathertight.
New thermally broken aluminium windows are recessed to align with the thermal envelope, reducing the thermal bridging around the frames.
The existing direct fixed metal roofing is replaced with pro clima DASATOP to the skillion roof areas, with all new Mammoth insulation installed, and pro clima SOLITEX MENTO® roof underlay with pro clima TESCON® NAIDECK under the counter battens to seal the purlin screw penetrations of the membrane.
The roof cladding fixings no longer penetrate the underlay and the roofing is now on a cavity (no longer in contact with the underlay). Much better cavity ventilation is provided and the 25 mm gap between the insulation and the underlay is not required with this best practice build-up, therefore more insulation is able to be fitted and the performance of the insulation is optimised with the monolithic membrane underlay and internal airtightness system placement.
New truss roof sections were integrated to pitch flat roof sections, with the added benefit of providing space for the new Zehnder balanced mechanical ventilation system with heat recovery (MVHR), ensuring indoor air quality with continuous fresh air supply from the outside while recovering energy from the exhaust air. The roof insulation was replaced with Mammoth product and pro clima INTELLO® PLUS smart vapour check was utilised to for airtightness and moisture management.
The specification will provide an approximate 2/3 reduction in heating cost and massive improvements in air quality, durability and comfort.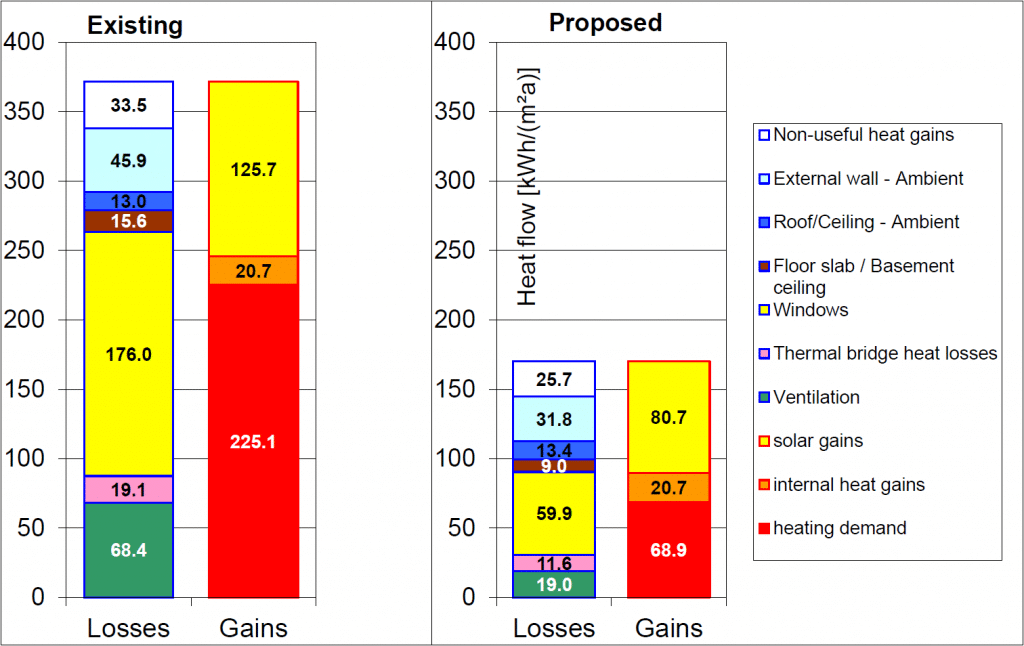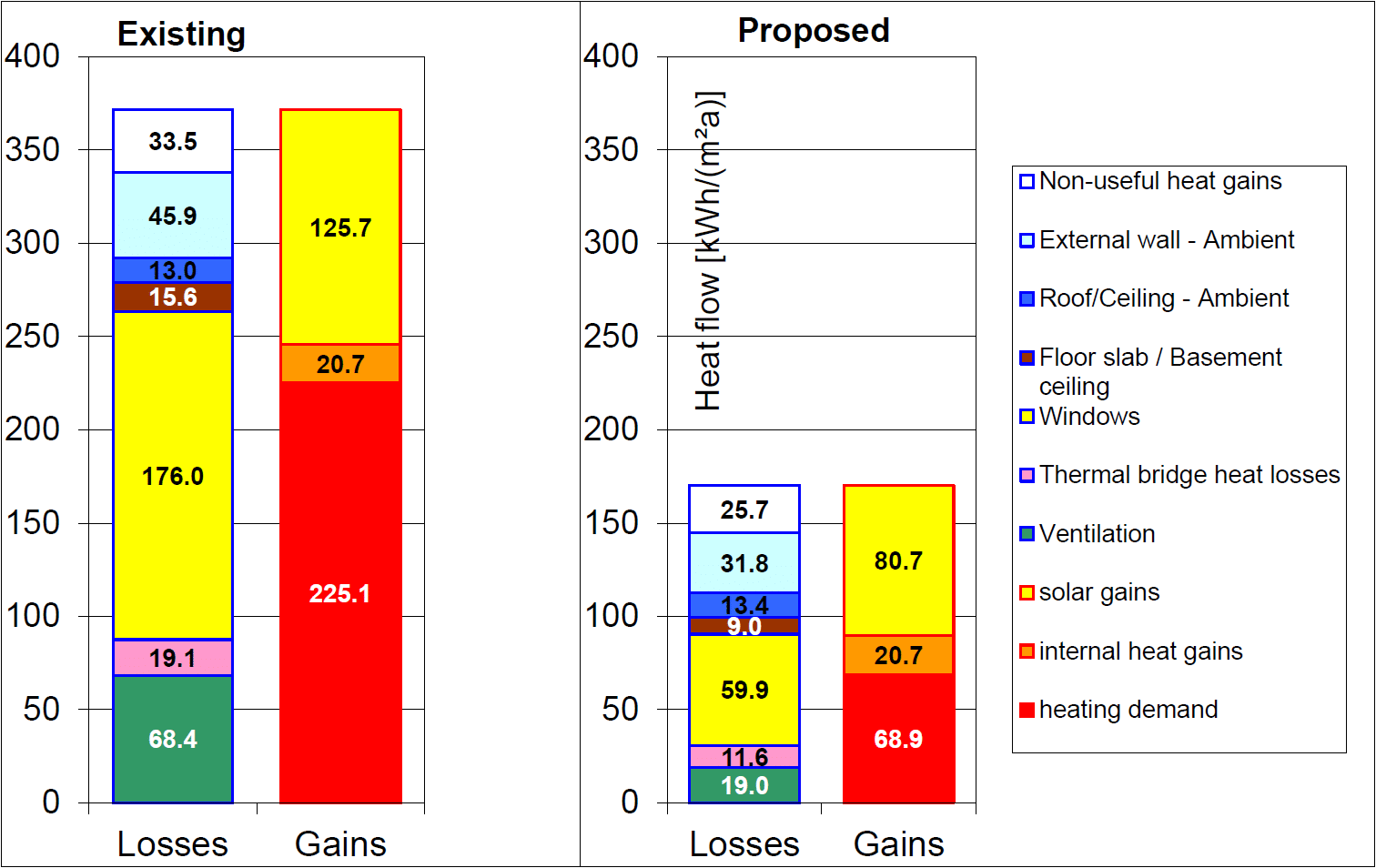 The overarching ethos of the team is to apply a robust methodology to determine the thermal and durability performance of the building and do it once and get it right; the client did not want a bandaid.
"It's always important to establish this clear set of goals and strategy at the start of the project, as a piecemeal approach never works. You wouldn't be interested in eating a "legal minimum" meal, so why would you only aim to achieve the legal minimum building performance?" – Guy Shaw
---
Modelling of the energy balance was undertaken in the Passive House Planning Package (PHPP). Results were reported to the client and project team in existing/proposed Space heating demand measured in kWh per year, peak heating load and Frequency of overheating.
2D existing/proposed thermal bridges were modelled to check condensation and mould risk in Flixo, a validated thermal bridge program according to standards EN ISO 10211 and EN ISO 10077-2.
WUFI® analysis was undertaken of the roof and wall assemblies to confirm the ideal positions for retrofitting vapour control membranes to the existing roof and wall assemblies.
UCanPSI used to check 3D thermal bridges formed by projecting steel members for condensation and mould risk.
---
Architect – Blue Pencil Architects
Consultants – Energy Architecture; Sustainable Engineering 
Builder – QualMAX Construction