More Info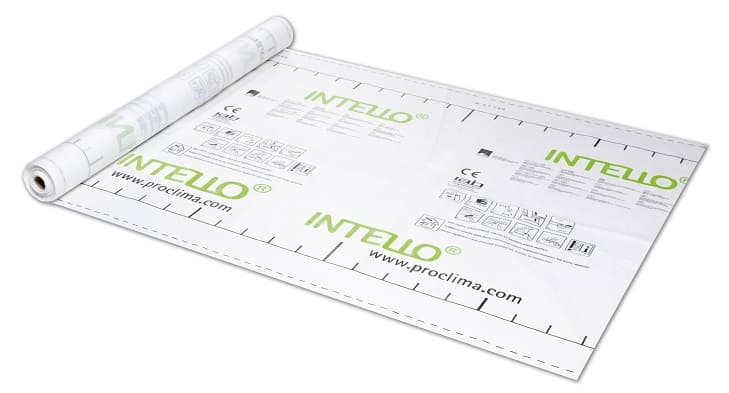 INTELLO® PLUS is a market leading intelligent air barrier for all construction types, providing superior energy and moisture control. INTELLO® PLUS maximises the performance of your thermal insulation, whilst restricting internal moisture entering the building envelope. INTELLO® PLUS utilises Hydrosafe® technology, providing optimal protection against structural damage and mould, even in the event of unexpected moisture intrusion.
---
pro clima INTELLO® PLUS was chosen to line the internal walls and ceiling of the home, creating an airtightness and vapour control layer on the inside of the insulation layer.
Marty Holah's been up to something. No, unfortunately the ex-All Black is not back wearing the jersey. But he has been busy building his own home and chose pro clima products to ensure his build is healthy, comfortable, energy efficient and stands the test of time.
This Hamilton home made great use of pro clima INTELLO® PLUS intelligent airtightness and vapour control membrane, a ducted heat pump and balanced pressure ventilation system, and above code insulation, to keep the owners cool in summer and warm in winter.
Marty, who is one of the owners of Holah Homes, chose pro clima INTELLO® PLUS to line the internal walls and ceiling of the home creating an airtightness and vapour control layer on the inside of the insulation layer.
An airtight building is one that has been designed and constructed to minimise the uncontrolled movement of air through the walls, roof, floor and joinery. Uncontrolled airflow through the building structure drastically reduces the efficiency of insulation and will ultimately compromise the integrity of that insulation if moisture builds up within the wall cavity. Long term insulation effectiveness is dependent on the quality of the airtightness envelope protecting the structure of the building.
In this Holah Home, Knauf glass wool insulation was installed providing the following R values:
Ceilings – R4.1
Wall 90 mm Framing – R2.6
Wall 140 mm Framing – R3.2
Airtightness helps to achieve the intended performance of the insulation, saving energy costs on heating and cooling because the energy is kept within the building rather than being wasted by escaping from the building.
Airtightness can also be measured to provide valuable information about the quality of installation of building envelope components including windows and doors which are often some of the most expensive items in a build. A WINCON* fan can be used during construction, or a Blower Door** test conducted at any stage to quantify how airtight a building is. Marty and his crew elected to go with a Blower Door test with a solid result of 2.08 air changes per hour (ACH), which is significantly better performance when compared to an average airtightness of new homes being 5 – 7 ACH.
But airtight does not mean vapour tight. Modern airtight construction prevents free air movement while still allowing the flow of moisture as vapour thanks to intelligent airtightness and vapour control membranes such as pro clima INTELLO® PLUS. When designed and constructed well, the interior and the structure of an airtight building will stay dry.
Two Mitsubishi ducted systems were installed, one for the upstairs section and another for the downstairs. These systems included a Losnay heat recovery ventilation system which ensures that stale damp air is removed, and fresh air is supplied.
It can be simple to construct a warm, energy-efficient, healthy, durable and comfortable building with good vision, careful planning and a team that is able to collaborate successfully. And that's exactly what Marty has achieved in his healthy, Hamilton Holah home.
---
* Pro Clima NZ Ltd supplies the WINCON fan free of charge. Contact us to book one for your project.
** ATTMA Accredited Blower Door testers are across New Zealand, click here to find one near you.