Innovative Offsite Manufactured Build Includes INTELLO® Airtightness System
More Info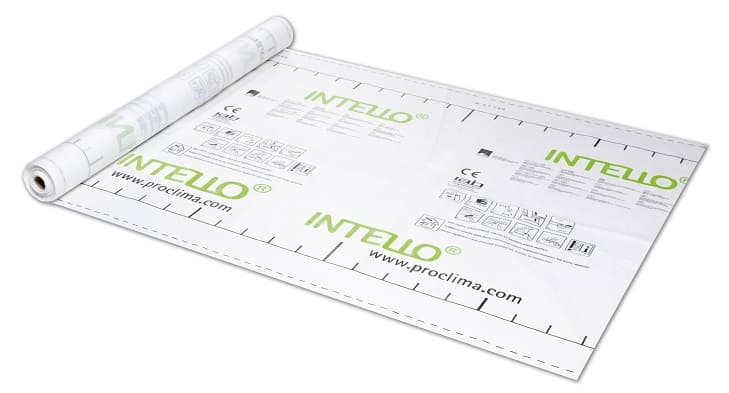 INTELLO® PLUS is a market leading intelligent air barrier for all construction types, providing superior energy and moisture control. INTELLO® PLUS maximises the performance of your thermal insulation, whilst restricting internal moisture entering the building envelope. INTELLO® PLUS utilises Hydrosafe® technology, providing optimal protection against structural damage and mould, even in the event of unexpected moisture intrusion.
---
For the New Zealand construction industry to meet the required number of new houses per year to be built, prefabrication is the way forward. One new and exciting company in this space is Flexi House.
Lower-Hutt-based company Flexi House has recently finished their first prototype build in Cromwell. Manufacturing partner Makers Fabrication constructed the Flexi Houses' floor, wall & roof panels in their factory over a seven-weeks period before they made the long journey south to their destination in a picturesque Orchard in Cromwell. Once delivered, it was an impressive 13 hours to assemble the prototype to a weathertight stage! The structure of the building has never been weather-exposed and saturated.
Offsite manufacturing provides a significant reduction in time onsite and an increase in quality control due to the controlled build environment in the factory. The reduction onsite has proven cost savings with the likes of scaffolding, site fencing, portaloo etc. With the manufacturing process under cover, materials are drier, builders have a consistent commute, don't have to contend with the weather, site parking, security issues, setup and packup each day etc. This allows a more efficient synchronised build process and better stock management with timber racking on hand for selected lengths etc.
Flexi House is currently building well above New Zealand Building code with the aim of working towards the international Passive House standard. One key element of the build was the incorporation of airtight and vapour control layer INTELLO® to incapsulate the inside of the building envelope to limit energy/heat and moisture escaping into the insulation layer. The airtightness of the building envelope in conjunction with a mechanical heat recovery ventilation unit maintains a calm stable environment with comfortable temperature and relative humidity levels all year round no matter what season central Otago throws at it…
The builders have installed sensors in the first house to monitor temperature, humidity and energy consumption, which will provide Flexi House with continued performance data.
Catherine McGregor from Pro Clima NZ took the opportunity to demonstrate to Flexi House and their client the benefits of airtightness by conducting a Blower Door test on their first prototype build. The result at the pre-line stage of the project came in at 1.29 air changes per hour (ACH).  To put that in perspective, a conventional new build in New Zealand would typically achieve 5-7 ACH, while the Passive House standard is <0.6 ACH.
The Flexi House at Forest Lodge Orchard in Cromwell is already functioning as accommodation, office space and lunch room for the orchard staff.