Airtightness and Humidity Control Key to Healthy Home
More Info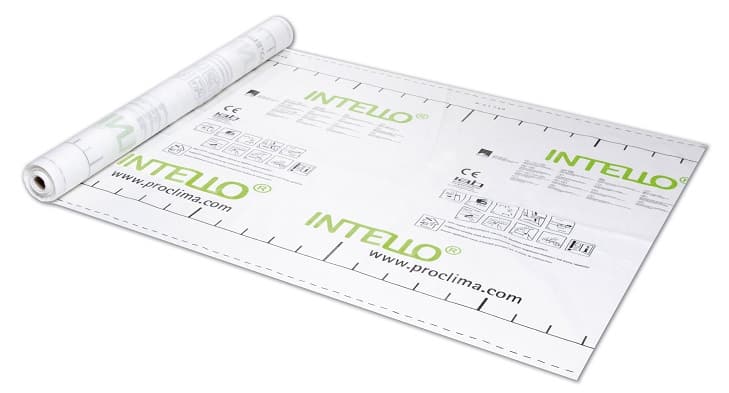 INTELLO® PLUS is a market leading intelligent air barrier for all construction types, providing superior energy and moisture control. INTELLO® PLUS maximises the performance of your thermal insulation, whilst restricting internal moisture entering the building envelope. INTELLO® PLUS is reinforced for strength and durability, utilising Hydrosafe® technology. This intelligent air barrier provides optimal protection against structural damage and mould, even in the event of unexpected moisture intrusion.
---
pro clima INTELLO® PLUS was installed between batten layers to ensure there was no condensation in the wall profile.
When Calum and Lotte were designing their alpine home, a key focus was creating a healthy environment for their children. With three young ones under five years of age and a history of asthma in the family, getting the thermal and moisture management systems right was a key goal. They were assisted in design by sustainable building expert Jerome Partington and local architectural designer Richard Milne. Energy and moisture modelling for their design was carried out by Denise Martin.
Jerome provided guidance on creating an airtight environment using the Sensitive Choice certified pro clima INTELLO® PLUS Intelligent Air Barrier system. Control of the indoor air is undertaken by a mechanical ventilation and heat recovery (MVHR) system. The 150 m² house with semi-detached single garage uses a Zehnder Q350 MVHR and is heated by hydronic underfloor heating designed by Central Heating New Zealand. Water for the underfloor system is heated by an air-water heat pump which was specified and installed by Semtex Plumbing. The grid-tied house has a 4 kW solar PV array and a 7.2 kW battery. Solar specifications and installation were provided by Phil Gregg (Sustainability Options) and Gregory Ward (MH Power).
The energy modelling provided by Denise enabled informed design changes to be made during the build and included an analysis of moisture movement in the wall profile. Semi-rigid R2.2 Mammoth insulation was used in the walls, with two additional layers of R1.3 insulation sitting on horizontal and vertical internal 45 mm battens. pro clima INTELLO® PLUS was installed between these batten layers to ensure there was no condensation in the wall profile.
Working with a local building company, Onsite Builders, the owners were keen to develop local knowledge and capability for healthy homes in the region. Housing staff from Ruapehu Iwi Ngati Rangi also participated in early design meetings as part of the knowledge-sharing process. When Denise undertook the initial airtightness testing before close-in and the house achieved 0.36 AC/hr, a post-build result of 0.56 AC/hr was also recorded. View the final airtightness test for the project.
Located at 600 metres above sea level in a semi alpine climate the house has performed exceptionally well according to Calum and Lotte. The house has a Maxraft insulated slab, Energate front door and triple-glazed uPVC Hagely windows.
Calum and Lotte feel they have achieved their goal of creating a healthy, energy-efficient and comfortable home.
Congratulations Calum, Lotte and all those involved!
---
Builders: Onsite Builders
Design by: Jerome Partington and Richard Milne
Energy and moisture modelling: Denise Martin