Kerikeri Home Excels with INTELLO® PLUS
More Info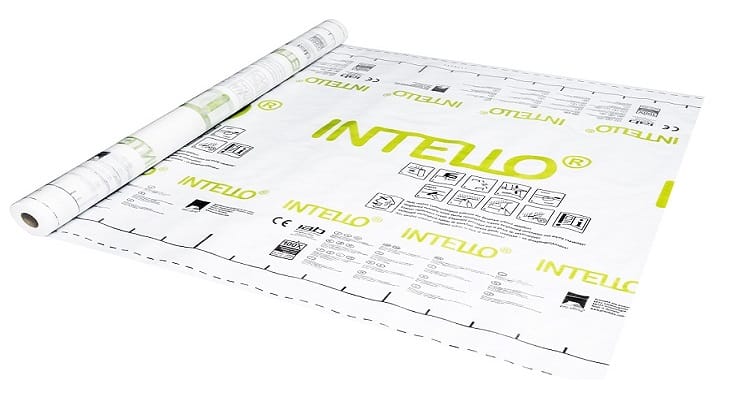 INTELLO® PLUS is a market-leading intelligent air barrier for all construction types, providing superior energy and moisture control. INTELLO® PLUS maximises the performance of your thermal insulation, whilst restricting internal moisture entering the building envelope. INTELLO® PLUS utilises Hydrosafe® technology, providing optimal protection against structural damage and mould, even in the event of unexpected moisture intrusion.

---
Lindsay and his wife Dale had been researching ways to design an energy-efficient home for many years before they retired and moved from Perth to beautiful Kerikeri. They approached Paul at Spooner Architectural Services with their ideas. Bevin MacCarthy, a certified builder from Bay Builders, was commissioned with the project.
A dedicated airtightness and vapour control layer, INTELLO® PLUS Intelligent Air Barrier, has been installed to help minimise air leakage from the building. Once the airtightness layer had been installed, a Blower Door test was performed which resulted in a performance of 0.89 air changes per hour at 50 Pascals pressure difference. As a comparison, standard New Zealand homes built to code today are generally achieving 5 – 7 air changes per hour at 50 Pascals.
Lindsay and Dale wanted an energy-efficient home and succeeded. What they have created is a comfortable, healthy, easy to heat home where they can throw open all the doors and windows whenever they like, and shut out the weather completely when they need to.
"We had a feeling houses could perform better than they do, and now thanks to Bay Builders we have proven it," says Lindsay. "It is a bit like my car – weather proof, wind proof, ventilated, comfortable."
---
Architects: Spooner Architectural Services
Builders: Bay Builders