Energy-Efficient Island Style Living
More Info

SOLITEX EXTASANA® wall underlay provides the best weather protection layer for your walls, under all conditions. It protects the building from wind, driving rain and other external sources of water, whilst allowing any internal moisture to escape through the vapour permeable, non-porous TEEE layer.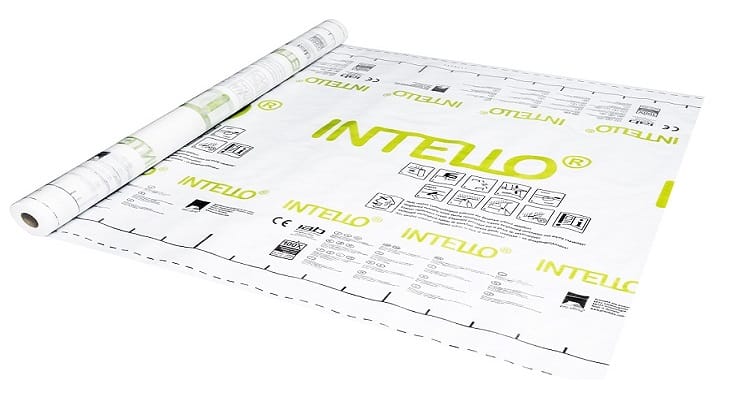 INTELLO® PLUS is a market-leading intelligent air barrier for all construction types, providing superior energy and moisture control. INTELLO® PLUS maximises the performance of your thermal insulation, whilst restricting internal moisture entering the building envelope.


---
This Waiheke home features a range of energy-efficient solutions including a dedicated airtightness layer which reduces energy loss through the thermal envelope.
Pieter De Zeeuw and Martine le Coultre built their dream home on Waiheke Island.
Designed by the award-winning Bossley Architects, the following contractors were involved in the construction:
Main structure by Christchurch based Ecopanel (Dan Saunders)
Site development and infrastructure by Waiheke based Gulf Island Solutions (Peter Dawson)
Finishing carpentry and cladding by Waiheke based Somerville Builders (Steve Somerville)
The home is made up of five separate buildings that meet their various requirements.
The main house
A yoga/activity studio
Two guest units
A garage with a wood store
A separate unit for family and friends
Construction was made simple through the use of the modular Eco Panel system. Ecopanel is a manufacturer of Structural Insulated Wall Systems that provide the structural framing, insulation and exterior weathertightness requirements of the dwelling in a one-piece panelised wall. It is a high-performance building system replacing traditional stick framing and ensures the framing is kept dry and erected quicker.
Each panel is constructed offsite and consists of :
An additional layer of pro clima INTELLO® PLUS Intelligent Air Barrier was installed in the main house by Enveloped, to offer airtightness and internal vapour control. Having a dedicated airtightness layer reduces energy loss through the thermal envelope, so the home requires far less energy to heat or cool. The pro clima INTELLO® PLUS layer also protects the structure and insulation layer from moisture ingress to keep it free from mould, corrosion and rot damage.
Ventilation has been designed using a Schweigen continuous ventilation fan and supply vent. This pulls air in fresh air through a vent in the ensuite upstairs and extracts stale damp air from the downstairs bathroom, ensuring the indoor environment is always healthy and comfortable to live in.
CLT (Cross-laminated Timber) from XLam was used to form the roof panels of the main house, and have been left exposed to showcase the beauty and warmth of natural timber. The majority of the exteriors were clad in Larch vertical shiplap weatherboard from Rosenfeld Kidson, which will age naturally and provide contrast to the brightly coloured feature cladding areas.
The buildings are all tied together by a large deck which is covered by a custom-designed and constructed by Structurflex Ltd (Harry Kleyn) canopy with a membrane roof (like a sail) which will be great for relaxing and entertaining in true 'Island' style for years to come.
---
Architect: Bossley Architects
Builders: Ecopanel (Dan Saunders), Somerville Builders (Steve Somerville), Gulf Island Solutions (Peter Dawson)