Airtightness Layer Contributes to Low Energy Rotorua Home
More Info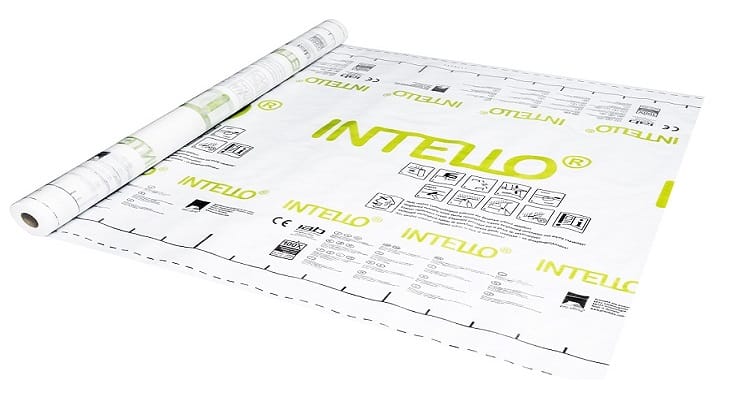 INTELLO® PLUS is a market-leading intelligent air barrier for all construction types, providing superior energy and moisture control. INTELLO® PLUS maximises the performance of your thermal insulation, whilst restricting internal moisture entering the building envelope. INTELLO® PLUS is reinforced for strength and durability, utilising Hydrosafe® technology. This intelligent air barrier provides optimal protection against structural damage and mould, even in the event of unexpected moisture intrusion.
---
Ian and Raewyn Simpson subdivided the Rotorua section that they have lived on for over 24 years, in order to build their dream home. They wanted a home that would be comfortable all year round with low running costs for heating and cooling, as well as having the latest in home automation.
The couple chose a local Rotorua builder, AJ from Performance Build, based on his experience building low energy homes.
In order to create a high-performance envelope, they used Knauf Insulation to achieve R4.1 insulation in the walls. In the ceiling, they used the Knauf Jet Stream MAX blown-in insulation product.
pro clima INTELLO® PLUS Intelligent Air Barrier was installed in order to maximise the performance of the insulation and minimise energy losses. A Blower Door test was performed and the home achieved an airtightness level of 1.3 ACH (air changes per hour). To put that number in context, average new builds in New Zealand achieve between 5 and 10 ACH at 50 Pascals. A Zhender HRV system ensures that fresh air is delivered to the home year-round at the right humidity levels, with efficient heat recovery being possible with the airtight envelope.
Double glazed UPVC windows and doors from NK Windows were installed, which include tilt and turn hardware for maximum functionality. Windows are the biggest weakness in a building's thermal envelope, and the Simpsons recognised the need to use better performing joinery to ensure their desired outcome.
A Maxraft fully insulated slab was chosen to complete the envelope.
An Ata Touch home automation system will allow for automation of the lights, blinds, wall panel heaters and security alarm all from a mobile app remotely.
---
Builder: AJ – Performance Build