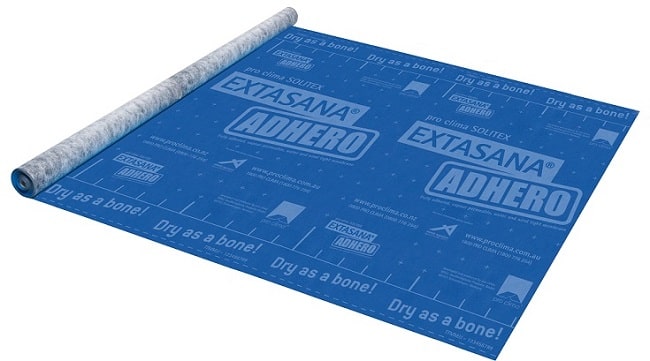 SOLITEX EXTASANA ADHERO® provides the ultimate weather protection layer for your walls and roofs under all conditions. Fully adhered to rigid substrates, SOLITEX EXTASANA ADHERO® provides ultimate protection to the building from wind, driving rain and other external sources of water, whilst allowing any internal moisture to escape through the vapour permeable, non-porous TEEE layer.
---
Taylors Mistake seems like an appropriate location for this unique project.
But a mistake it is not.
Architect Craig Jarvis from Harmonic Architecture decided to put his hands on the tools for his dwelling near Christchurch with the aim of designing and building something special.
"In my efforts to design and build a smaller, sustainable, non-toxic, affordable, off-grid dwelling, my preference has always been to use, find or develop local solutions. And this by far has proven to be possible. However, sometimes an imported product is just superior in performance and non-toxicity. pro clima's self-adhesive building wrap ADHERO [SOLITEX EXTASANA ADHERO®] was one of those.
ADHERO is quite amazing – the ability to stick on a building wrap just makes good sense.
Piercing the building wrap with hundreds of stables, which you DON'T have to do with ADHERO, just seems stupid now.
In truth, it was a bit tricky over a curve, but once we developed a method, it went on well. Once on, it's never coming off! It didn't come loose when it was smashed by a storm – us and our neighbours were very happy about that. The 180 day guarantee in all weather all on its own was a good enough reason for me to use it. And I will use it again on future projects. It reduces the risk to the dwelling dramatically.
My place was always meant to be an experiment, finding solutions and trialling products. The pro clima gear is just good stuff. It works as it's meant to and the place is bone dry. The shape of the building made it hard to get products that would do the job well and be cost-effective. Finally, we have a solution that works and were free to install it over 180 days, which was gold!"
Thanks Craig!
We're blushing but proud.
---
Architect: Craig Jarvis Harmonic Architecture