Airtightness for NZ's First Straw Bale Passive House
More Info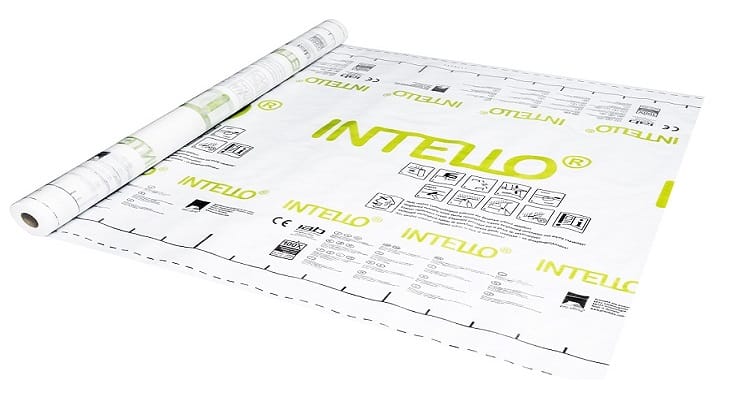 INTELLO® PLUS is a market-leading intelligent air barrier for all construction types, providing superior energy and moisture control. INTELLO® PLUS maximises the performance of your thermal insulation, whilst restricting internal moisture entering the building envelope. INTELLO® PLUS is reinforced for strength and durability, utilising Hydrosafe® technology. This intelligent air barrier provides optimal protection against structural damage and mould, even in the event of unexpected moisture intrusion.
---
The home is the Southern Hemisphere's* first Straw Bale certified Passive House.
Jessica Eyers of Hiberna designed this three-bedroom straw bale house which her husband Ben built. The build utilises natural, low-tech, locally sourced materials and pairs them with high-tech scientific design and construction principles.
The structure comprises a post and box beam wall system with straw used as in-fill. The airtightness layer is achieved using a combination of plaster on the walls and pro clima INTELLO® PLUS Intelligent Air Barrier in the ceiling. pro clima CONTEGA® PV, fleece tape for interior airtight plaster connections, is used to connect INTELLO® PLUS to the plaster and the plaster to the windows. Ventilation is supplied using a Zehnder Q350 heat recovery ventilation unit.
During their research into the heat conductivity of straw bales, they discovered that the orientation of the bale has a great impact on the insulation value. Bales on edge make for a slimmer wall but overall the U-value is greater.
A 3Kw PV system was installed in the roof which meets the home's electricity needs as well as powering an electric car. Hot water is supplied from a heat pump while the home is heated by two 1KW radiators fed via a scavenging coil in the water cylinder.
Ben initially planned to make the windows himself but eventually decided to source the triple glazed timber windows from a friend in Germany and now imports these as a side business. Polystyrene was used to insulate the window jambs to help achieve the Passive House standard. Jessica specified timber fibre insulation in the future to fit better with Hiberna's natural ethos.
Due to the two-storey structure and the plaster airtight layer, airtightness was quite a challenge, but they ended up just squeezing in at 0.59 AC/hour.
The couple have learned a lot from this build and look forward to many more builds like this for clients in the future
---
Designer: Jessica Eyers, Hiberna
* There are approximately 15 certified Passive Houses on the database that include straw in their composition. The only other home pro clima is aware of that uses just bales and plaster (no membranes, linings, or cavities) for the walls is in the UK.